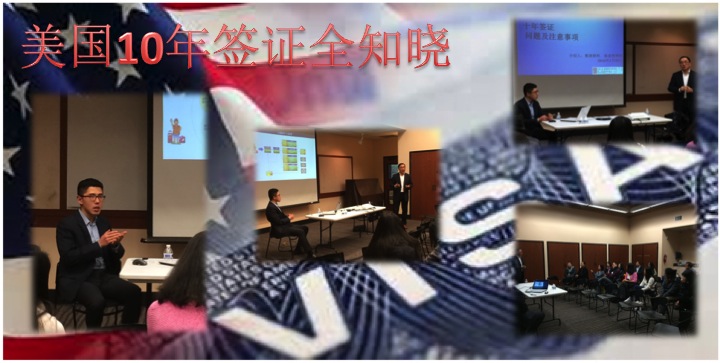 US 10 years visa policy has been implemented over 1 year so far, according to National Travel & Tourism Office (NATTO) official report of 2014, China rank 6th place on top 10 origin market of international arrivals to US, growth of 21% and reached 2.19 millions arrivals in 2014. 2015 figure is not available yet.
NATTO released recently forecast and study of international arrivals of 2015 – 2020, the report indicate China will move from #6 in 2014 to #3 in 2020, with double digital growth every year, the number will reach 5 million arrivals in 2020;
US 10 year visa policy generates the convenience for Chinese to enter into US; on the other hand, more and more issues and questions are brought the attention. Seattle U.S – China Business Council coordinately invite senior and reputable attorney in-law Alex Cai and Charlie Cai, both are the founder of Cai & Associates, PC to present the workshop --- US 10 Year Visa Do's-and-Don'ts
Alex Cai
One of the first international business lawyers trained in China and encouraged to go abroad to further their legal studies in the early 1980s. After becoming a licensed lawyer in China in 1984, Alex attended the University of Georgia School of Law in 1985, where he earned his LL.M. Alex then earned his J.D. from the University of California's Berkeley School of Law.
In 1991, Alex was admitted as a member of the Washington State Bar and worked as an associate at the Bellevue office of Davis Wright Tremaine, a well-known international law firm. In 1994, as one of the very few lawyers who were licensed both in the United States and China, Alex returned to Shanghai, China to establish a law firm that will serve the critical business needs of foreign companies in China.
Thereafter, Alex has devoted himself and his team to providing the highest quality legal service to multinational corporations and successful individuals. Alex accumulated substantial legal and business knowledge, insight, and experience in cross-border transactions and related legal matters after 20 years of practice in international law. Alex has served many small, medium, and large foreign corporations, including global Fortune 500 companies, with respect to their investments, development and growth, M&A, corporate matters, business transactions, and project financing.  
In addition to serving foreign multinational corporations, Alex represents and advises Chinese companies and individuals in dealing with their overseas matters in the United States and other countries, such as incorporation, acquisition, and purchase or transfer of real property. Alex also helps Chinese companies in obtaining L-1 visas and Chinese individuals in obtaining EB-5 investment immigrant visas in the United States. Due to his expert legal knowledge of the Chinese and U.S. legal systems, Alex also assists Chinese clients in formulating their complex litigation or arbitration strategies in the United States, as well as teaming up with U.S. litigation lawyers. Alex has earned substantial respect from his Chinese and foreign clients for prompt and outstanding legal service. 
Charlie Cai
Is an attorney with an exceptional U.S. and Chinese educational and cultural background. Charlie possesses a thorough understanding of both U.S. and Chinese law, business, and culture. Charlie attended New York University and graduated with a Bachelor's Degree from the University of Washington with honors. Charlie then earned his J.D. from Emory University School of Law, a top U.S. law school.
As an attorney, Charlie focuses his practice on transactional and immigration matters. He has extensive experience advising clients on cross-border deals, corporate, investment, and real estate matters. Charlie is also experienced in assisting clients with immigrant and nonimmigrant matters, including EB-5 Immigrant Investment, EB-1A Extraordinary Ability, EB-1B Outstanding Professors and Researchers, EB-1C Multinational Managers or Executives, L-1A Intra-company Transferee Executives or Managers, L-1B Intra-company Transferee Specialized Knowledge, H-1B Specialty Occupation, and National Interest Waivers.
Charlie is a co-founder of the Bellevue, Washington office of Cai & Associates, P.C. Prior to establishing our firm's Bellevue office, Charlie worked as an attorney for a reputable local immigration law firm, during which he gained substantial experience in the analysis and application of immigration law. Additionally, he has valuable experience working on large cross-border transactional matters, including working at The Coca-Cola Company's Atlanta, Georgia Headquarters, Jun He Law Firm, and United Technologies Corporation's Beijing and Shanghai Legal Departments.
Leveraging his keen business sense, years of experience in immigration and corporate law, and fluency in English and Chinese, Charlie has served more than 100 clients in less than 3 years. Charlie has received praise from peers and clients for his commitment to providing high quality service and in-depth understanding of the law.
Sat, 01/23/2016 -

10:30

to

12:30